Palazzo Bruni Hotel is an ancient mansion build in the late 1600's and early 1700's.
Born as a manor house of the Bruni family, it has now been renovated and converted into a hotel.
It is located in Maierà, in the hearth of Pollino National Park, in the province of Cosenza, the only country in the world having museum dedicated to chili pepper.
Built on rock, as well as other buildings of the area and located near the main square, Palazzo Bruni Hotel overlooks the wonderful coast of the Cedars, home of Calabria chili pepper.




Facility
Car Parking
Reading Room
TV Room
Free wi-fi

Service
Credit cards
Safes
Luggage Office

Equipment
Air conditioner Rooms
Cabel TV
Phone
Mini-bar

Utility
Disabled access
Shuttle Service
Luggage service

Catering
Bar
Internal catering
Italian Restaurant

Welcome
1 Suite overview
3 Junior suites
8 Rooms (Classic / Comfort)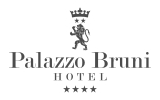 Hotel Palazzo Bruni
via Roma - 87020 Maierà / Cosenza / Italia
tel/fax +39 0985889018
mob +39 3312185604
e-mail info@palazzobruni.com